We believe pets and families deserve fear free handling, stress free visits, and lots of love at the vet.
Veterinary visits are a crucial part of Fear Free Happy Homes. In order to provide our pets with long, happy, healthy lives, regular visits to your veterinarian for both preventive and acute care are needed. Why is it that so many pets, and owners, dread visiting the veterinarian? Often, it is due to the fear, anxiety, and stress pets (and owners) experience.
But it doesn't have to be that way. Fear Free certified veterinary team members are equipped with the knowledge, tools, and resources to make the veterinary visit enjoyable for everyone involved. When you visit one of our Fear Free certified professionals, you can be assured that your pet's emotional well-being will be front and center.
What does this mean to you?
In our hospital, we pride ourselves on being a low-stress handling veterinary facility. We promise that your pet will always receive loving care and gentle handling. By using low-stess and no-fear handling techniques on every one of our patients, we reduce many of the anxiety triggers. The result is a much calmer visit to the clinic. We feel it is very important that none of our patients fear the vet and that they are comfortable on every visit. And that starts with their very first puppy or kitten appointment! The photo below is a perfect example of what we mean by low-stress handling.
---
Your Dog
This little fellow didn't even know he was getting his nails trimmed, but he sure loves going to the vet!
tranquility suite the perfect option for a calm, soothing overnight stay. The guests in the Tranquility Suites receive soft ocean sounds, a view of a field of blue bonnets, an indoor grass-covered potty area, soft bedding, and plush toys to comfort them during their stay. Visit our Rowlett dog boarding page for more information.
Timid dogs who are less than 20 pounds, may find our
---
Your Cat
We even have a special cat entrance and an isolated portion of our hospital that caters to the special needs of our feline friends. Visit our cat hospital page for more information about our low-stress handling techniques.
Henry's medical exam was done under the bench because Henry wanted it that way.
Notice that Henry finally warmed up to Dr. Downes and she was eventually able to work with him in her lap.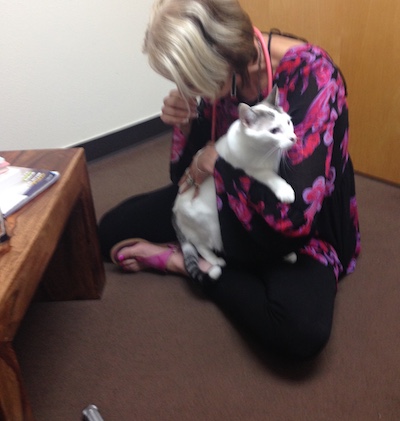 Your fear-free experience
We're proud to bring you, your family, and your pets the convenience of all this care under one roof