Medical Acupuncture Now Available for Your Pets
What is Medical Acupuncture?
Acupuncture is the insertion of very fine needles into specific points in the body. These specific points on the animal's body provide access to nerve endings which, when stimulated, will send information to the spinal cord and brain. This starts a cascade of events, which in turns brings pain relief, increased blood flow, and increased function of organs and tissues which speeds healing.
Positive Benefits – Does Veterinary Medical Acupuncture Work?
First developed thousands of years ago in china, there are now different approaches and styles to acupuncture. The Medical Acupuncture approach unites current western science and "evidence based medicine" with acupuncture techniques. Although some think of acupuncture as strictly "energy medicine," studies have been published that document evidence of the benefits of acupuncture in certain cases. A number of researchers are convinced that true physiological events take place within the body during stimulation of acupuncture points. Through this recent research of nueroanatomy we now know that acupuncture has a scientific basis and these needles are actually modulating the nervous system of the patient to bring about positive benefits this is called medical acupuncture.
Veterinary Medical Acupuncture Treatment
The needle insertion is usually painless for most patients. Some patients may feel a little tingle or pinch at certain points when the needle enters the skin. The amount of needles used is dependent on the patient and condition that is being treated. On average, the needles will stay inserted from 10-30 minutes. Additionally, some conditions like a sprain may only need one treatment while most chronic conditions may need multiple treatments. The initial visit and treatment is usually an hour long and we will develop a specific treatment plan for your pet during this visit. Follow up treatments last around 30 minutes. Each appointment includes a myofascial exam which is an examination of the muscles and connective tissue to guide in the needle placement.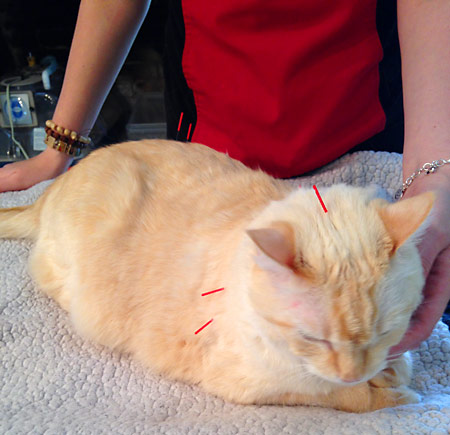 Great for Cats Too
Your pet may be tired the day of his/her treatment which is completely normal due to the increase in neurotransmitters and endorphins released during the acupuncture treatment. It's similar to the feeling you get after a deep tissue massage. Cats are also great candidates for acupuncture although some may not allow as many needles as dogs will.
Veterinary medical acupuncture is a great adjunctive treatment for many conditions in your dog and cat including but not limited to the following:
Acute and Chronic Pain
Degenerative Joint Disease
Intervertebral Disc Disease
Paralysis
Post surgical pain
Hip Dysplasia
Tendon/Ligament Injuries (Cruciate Injuries)
Neuropathies
Gastrointestinal Syndromes
Renal Disease
Respiratory Conditions
Epilepsy (seizures)
Appetite stimulation and nausea relief in chemo patients
Improve quality of life in hospice patients
Canine (dog) agility injuries
---
Veterinary Medical Acupuncture Case Studies
Meet Bonnie!
Following is an account from an actual acupuncture patient who received the treatment in our new specially appointed acupuncture suite. (click any image to enlarge)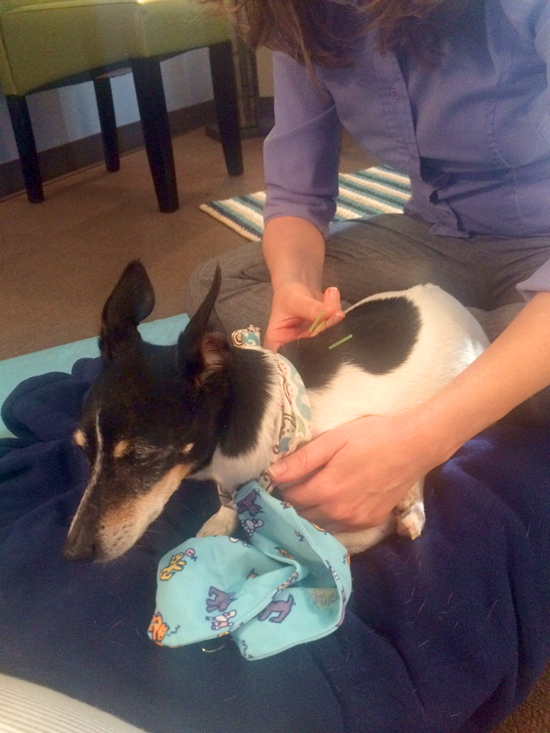 So, my dog Bonnie is what some may call....a landshark. She bites and doesn't really like to be handled much. I used to think she was just old and crotchety, but the more I have seen her curve her back and lay with her legs funny, I have realized this behavior is attributed to pain.
I brought her in and we started her on tramadol, gabapentin, and pred to try to control inflammation and pain. It helped, but not fully. Then, Dr. Carter started offering acupuncture services at Animal Hospital of Rowlett. I thought, why not see if this can help control her pain?
So, I brought Bonnie in for her first treatment. She was painful and didn't relax in the beginning. She tried to bite Dr. Carter so we had to muzzle her. After Dr. Carter got 5 needles in, she relaxed and actually fell asleep in Dr. Carter's arms. We let her sleep about 30 minutes and then I took her home. She ran inside, ran up the stairs, tried to play with our big dog Bo (who stepped on her one day and started these back issues) and scarfed down 2 big bowls of food (she is usually a nibbler and picky). She fell asleep in her bed and slept for about 10 hours.
Wow! I thought, how could she be feeling so great after just 1 treatment? Dr. Carter recommended bringing her back in 5 days for a second treatment. I did. She didn't have to be muzzled this time. She laid down in the room and ate some baby food from a jar while Dr. Carter placed the first couple of needles.
Bonnie let Dr. Carter put in a few more needles this time and had the same reaction as the first...she fell asleep for about 30 minutes and you could see her visibly relax. I brought her home and she acted like a young, crazy woman again...bouncing all over and playing with the Bo. My husband even commented that "she acts so awesome for the first couple of days after those acupuncture treatments". I can't wait to see how she is after she has had a few more treatments. Maybe she can be this way all the time?
---
Meet Boba
This is one of our nurse's dogs (Boba) getting acupuncture. She has had lots of success already and its only been 3 treatments!
We are loving this new service and so are the doggies! Book your consultation today if you think your dog could benefit! Also, pain isn't the only indicator for acupuncture. Many different illnesses can benefit from acupuncture treatments.